Octagonal form with full-metal design: A genuine evolution of the original G-SHOCK DNA
Introducing the first full-metal addition to the continually evolving 2100 line, a true heir to the identity of the first-ever G-SHOCK. Boasting luxe full-metal construction while retaining the original streamlined, minimalist design along with the comfortable sizing and fit on the wrist. Also includes Smartphone Link, Tough Solar, and other features designed for life in the digital age.
Available now from G-Shock Premium Stockists: Pascoes, Loaded NZ, Christies, Goldsack, Jamies, Stonex & Kings & Queens.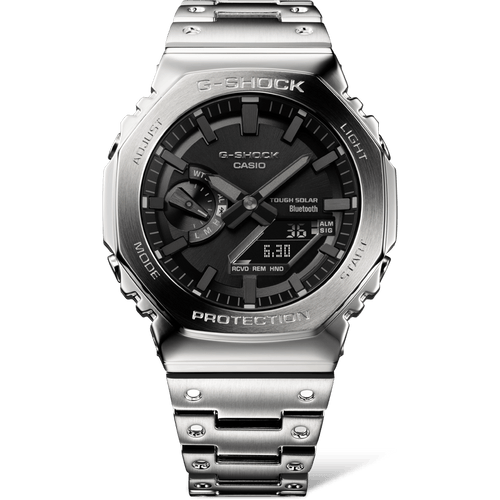 GMB2100D-1A
RRP $1049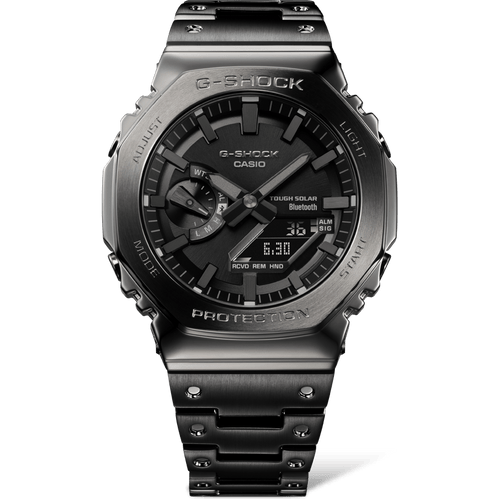 GMB2100BD-1A
RRP 1099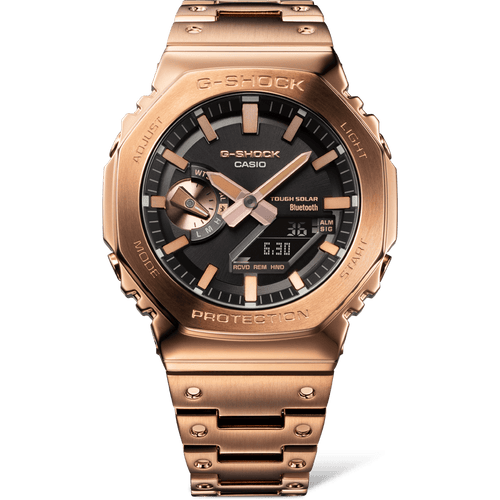 GMB2100GD-5A
RRP $1099
A full-metal analogue watch, heir to the spirit of the very first G-Shock
Now in a full-metal construction, this 2100-line watch features an octagonal form inherited from the DW-5000C, the very first G-Shock that debuted in 1983. With
its screw-back case, bezel and band crafted with stainless steel, the watch offers streamlined, minimalist design while protecting the module from drops and impacts with its iconic G-Shock shock-resistant-structure. With its tough,
dimensional forged form, the bezel shines with an attractive circular hairline finish on its top surface. Reproducing the dimpled portions of the DW-5000C in
metal, the band presents enhanced textures with differentiated hairline and
mirror finishes.

Slimline module design achieved with high-density mounting.
Employing a slim Tough Solar powered timekeeping module with Bluetooth connectivity, the watch maintains the same sense of size as the previous GM-2100 while offering a wider range of functions and full-metal construction. While delivering high utility with Smartphone Link and Tough Solar functionality, the GM-B2100 offers a comfortable fit on the wrist as well.

Full metal shock-resistant structure with precision refinement.
Buffering components made of fine resin are installed between the stainless-steel bezel and case to protect the module from shock. Undergoing meticulous processes of forging, cutting, and polishing, the bezel and case are precisely crafted down to the intricately shaped face, and also to the back, which is the key to the precision fit. Additionally, a three-pronged structure is employed for the lugs on the case to disperse shock to the connective part of the band.

Dial finishing achieved with microfabrication technology
Dual-layer dial construction is employed to present the inset dial and LCD portion with distinct finishes of their own. With a minute grind-mark finish and vapour deposition applied to the inset dial ring, laser welding used to secure it to the dial, and more, precision die moulding technologies applied by Yamagata Casio deliver an intricate form and meticulously detailed surface finish. In addition, the vapour deposition applied to the dimensional index marks and the indicator hand emphasises the metallic texture for a dial design that complements the watch's metal exterior.

Three distinctive IP colours for full-metal design
In addition to brilliantly gleaming silver (GM-B2100D), two other options are offered: all-black IP for an intrepid look (GM-B2100BD) and fashionable rose gold IP (GM-B2100GD).

Solar-powered timekeeping with Bluetooth® for enhanced accuracy and reliability

Super Illuminator (high-brightness double LED light) for maintaining watch readability in the dark

APPLICATION

* App screens shown here may differ from actual screens, since the app is currently under development.
Supported phone models (As of Jan 2019)
- iOS: iOS 10 or later
- Android: Android 6.0 or later
Main Functions
- Automatic time adjustment (four times a day)
- Easy watch setting
- World time (about 300 cities)
- Time & Place:
Pressing a button on the watch records the date, time and position on a map. Useful as an activity log.
- Reminder:
The watch will remind you of up to five upcoming events, which you set within the app.
- Phone finder
* Updating of internal data according to the latest time zone/ daylight saving time information
* Bluetooth® wordmark and logo are registered trademarks of Bluetooth SIG, Inc. and any use of these marks by Casio Computer Co., Ltd. is under license.
* Apple, Apple logo and iPhone are trademark of Apple Inc. registered in the United States and other countries. App Store is a service mark of Apple Inc.