TAKING TOUGHNESS TO THE LIMIT
G-SHOCK, the watch that brought the new concept of toughness to the timepiece.
It began with a reckless challenge to the conventional wisdom of the day, a developer's belief that it was possible to construct a watch that wouldn't break, even if dropped, Project Team Tough was formed to build it in 1981. The team created over 200 prototypes one after another over a period of about two years.
They finally arrived at a shock-resistant structure, marking the birth of a technology that is tough to the core.
G-SHOCK has continued its unceasing evolution ever since, in pursuit of greater toughness in every respect, from structure and materials to functions. Today, the development team's passionate challenge and constant efforts have reached fruition in Triple G Resist, a structure with the strength to withstand 3 types of gravitational acceleration.
In its pursuit of usability under any circumstances, moreover, G-SHOCK realized installation of Smart Access, a system assuring agile, reliable operability.
Stronger than ever, and targeting even greater strength, G-SHOCK's challenge is never-ending.
HISTORY OF G-SHOCK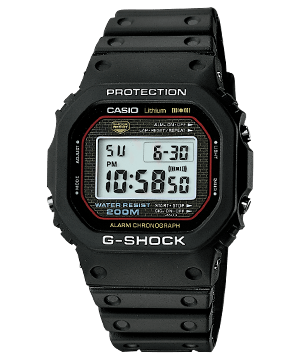 1983
DW-5000C
ORIGIN
First G-Shock
Original G-Shock (Shock Resistant)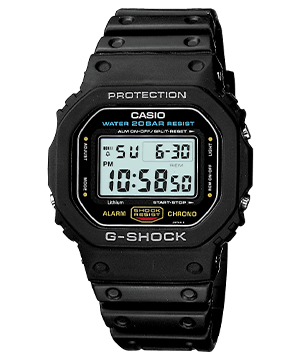 1987
DW-5600C
ORIGIN
Launch of first DW-5600 series model
Long-selling model (Original model II)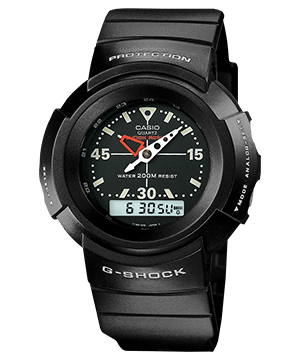 1989
AW-500
FIRST ANALOGUE
First Analogue G-Shock
Analogue with shock-resistant construction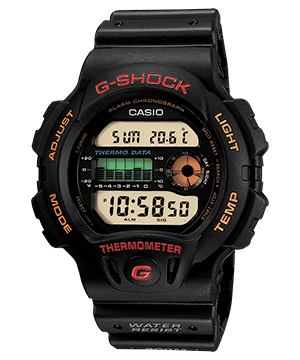 1992
DW-6100
THERMO SENSOR
First sensor-equipped watch
Sensor-equipped timepiece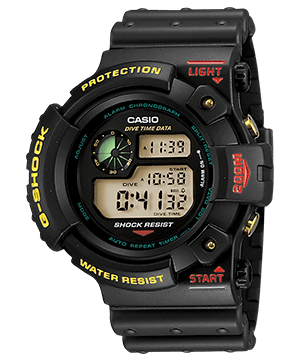 1993
DW-6300
FROGMAN
First 'MAN' Series model; Frogman/ISO200m water resistant
Aspherical configuration for easier use at the professional level, plus ISO 200-meter water resistance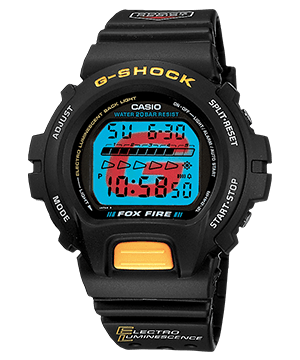 1994
DW-6600
FIRST EL BACKLIGHT
First EL Model
CASIO-only ultra-bright EL light that not only provided illumination, but also created a totally new user communication tool.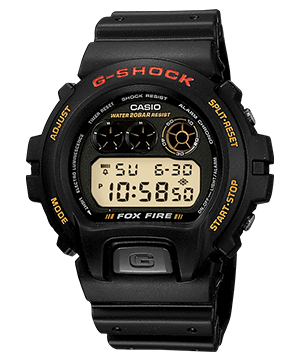 1995
DW-6900
STANDARD
Launch of 1st DW-6900 model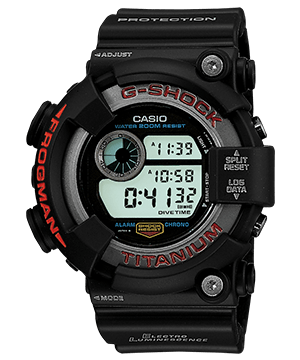 1995
DW-8200
FROGMAN
Titanium material (FROGMAN II)
New titanium material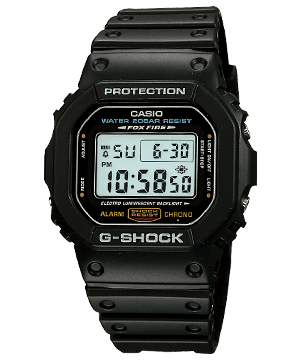 1996
DW-5600E
ORIGIN
Plastic fortified resin case
No modification of Original Model form (Original Model III)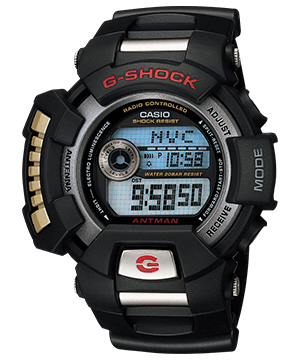 2000
GW-100
MASTER OF G
First radio-controlled watch
Receives calibration signals for highly accurate timekeeping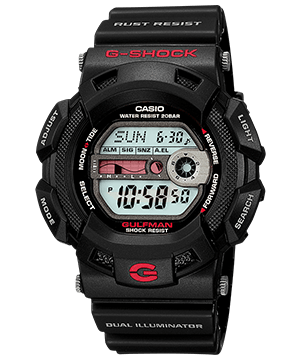 2007
G-9100
GULFMAN
A GULFMAN with a rust-resistant structure
All the metal parts that come into contact with outside air, from the screws, back cover, belt buckle, and button shafts have been converted to titanium to optimise rust-resistant structure.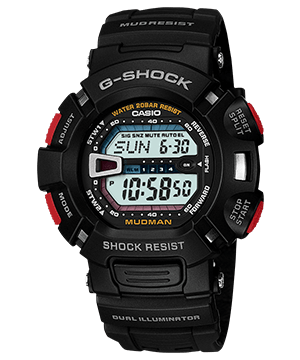 2007
G-9000
MUDMAN
Shuts out dust & mud. Rally-spec G-Shock
A stopwatch designed specifically for rally races. Designed and engineered to be worn with comfort and to keep on working even under the mud and dust of rally conditions. The mud-resistant G-Shock.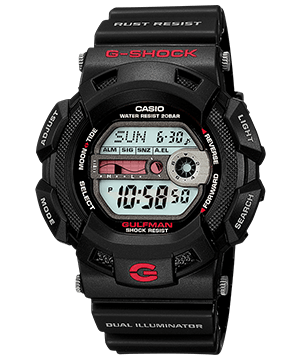 2008
G-9200
RISEMAN
Twin Sensor-equipped RISEMAN
Adoption of a design with a sturdy centre shaft passing through the case on the horizontal axis supports installation of two sensors capable of taking altitude and barometric pressure/temperature measurements.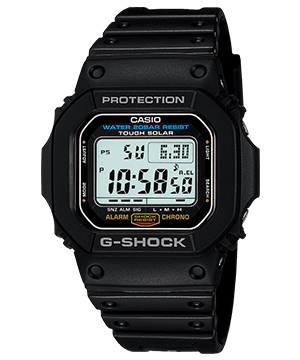 2009
G-5600E
ORIGIN
Square face inherited directly from the original G-Shock design
The original Tough Solar power system employs not only sunlight but also light from fluorescent lamps and other sources to recharge the battery and provide ample motive power.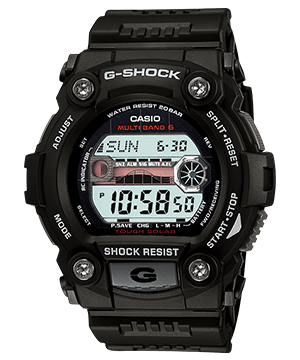 2009
GW-7900
STANDARD
Multi Band 6 Radio-Controlled solar-powered model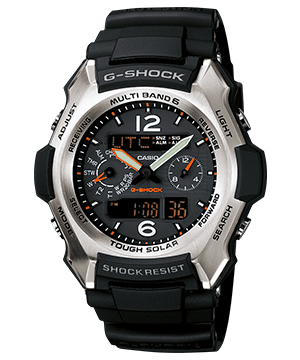 2009
GW-2500
GRAVITYMASTER
Multi Band 6 Radio-Controlled solar-powered model
A tough watch that resists intense gravitational forces and vibrations.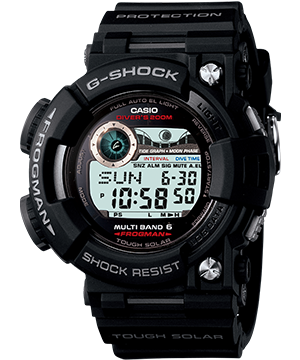 2009
GWF-1000
FROGMAN
First FROGMAN model with Multi-Band 6 Atomic Timekeeping
Practical and functional anti-shock divers watch resistant to ISO 200M. Equipped with Multi-Band 6 Atomic Timekeeping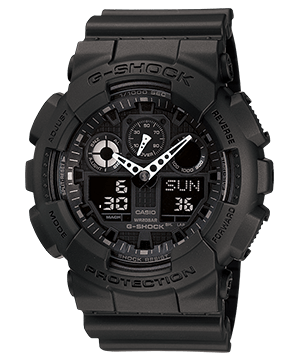 2010
GA-100
STANDARD
A high-function combination model feature shock resistance and versatile utility.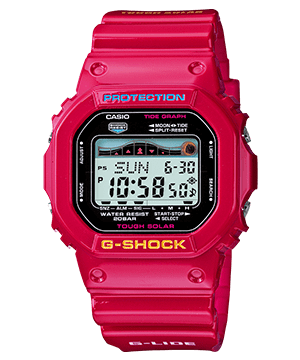 2010
GRX-5600
G-LIDE
Tide Graph providing invaluable support for surfers
A Tide Graph and Moon Data display timely information on 100 key tidal point worldwide. Further visual appeal is added by a graphic pattern applied to the band.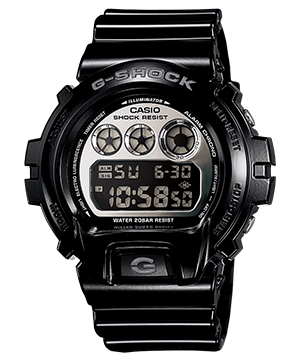 2010
DW-6900NB
STANDARD
Featuring an EL backlight and flash alert functions
This glittering, highly individualistic metallic model includes such features as a striking mirror-processed dial with pop colouring as well as glossy coating and colour LCD.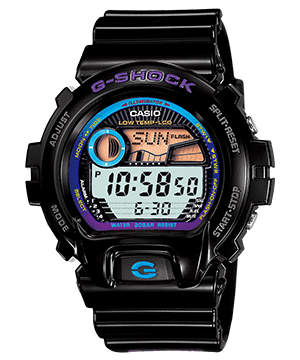 2010
GLX-6900
G-LIDE
Equipped with Tide Graph and Moon Data
This model adds pop colouring to the renowned G-Shock basic form. Key functions include a Tide Graph that provides tidal information and Moon Data that displays the age & shape of the moon.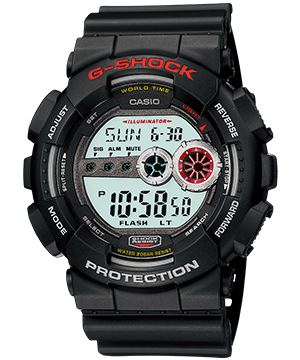 2010
GD-100
STANDARD
G-Shock with a high-luminosity LED backlight
The high-visibility large-diameter dial features a wide LCD capable of displaying a variety of functions.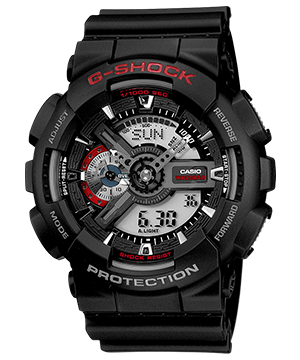 2010
GA-110
STANDARD
A large case with an analogue-digital combination dial
During stopwatch measurement, the average speed over a pre-set distance is calculated automatically by segment and displayed by the specifically equipped speed measurement function.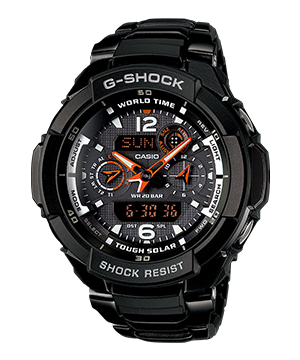 2010
G-1250
GRAVITYMASTER
Gravitymaster constructed to resist centrifugal gravity
An optimal layout based on precise calculations of the weight of each hand ensures stable operation of the hands to enable accurate timekeeping under conditions of powerful gravitational forces.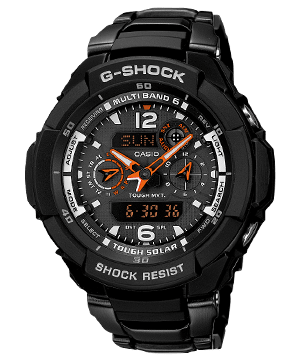 2010
GW-3500
GRAVITYMASTER
Gravitymaster with radio controlled Multi-Band 6
Built to withstand the powerful centrifugal gravitational forces approaching 12G produced when planes make turns while flying at speeds of up to 370km/hour in air race competitions, this pilot's watch combines toughness with practical utility enabled by original G-Shock technologies.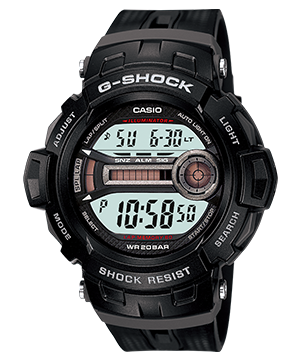 2011
GD-200
ORIGIN
First G-Shock model with glass fibre insert band
The tough band employs an insert created from a sheet interwoven with resilient glass fibre like that used in surfboards and other gear.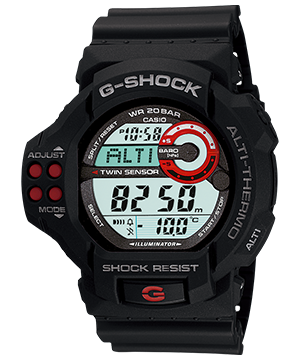 2011
GDF-100
STANDARD
A Twin Sensor model equipped to take barometric pressure/altitude and temperature measurements
The positioning of a prominently protruding pressure sensor at the 9:00 contributes to an original asymmetrical case shape.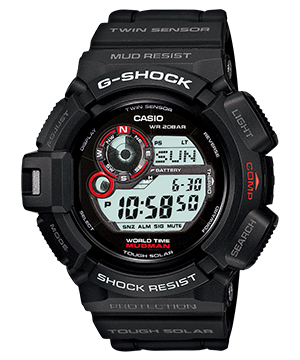 2011
G-9300
MUDMAN
A G-Shock with a new mud-resistant structure
The new MUDMAN's superior mud-resistant structure employs a single urethane cover for the button area in which 3 keys are arranged.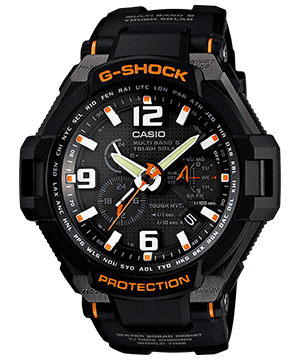 2012
GW-4000/G-1400
GRAVITYMASTER
Vibration resistant features developed. Features "TRIPLE G RESIST"
The newly developed "TRIPLE G RESIST" protects the module from the 3 forces of shock, vibration and gravitational force. The space between the exterior case and the module contains high grade "alpha gel" to reduce vibrations.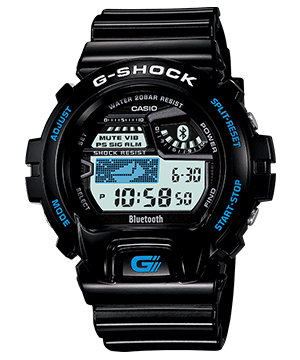 2010
GB-6900
BLUETOOTH® SMART WATCH
The first in the next generation of wristwatches, capable of communicating with a smartphone
Capable of connecting to any smartphone that supports Bluetooth® Low Energy. Connecting to a smartphone allows for automatic time synchronisation and shows incoming calls. emails etc on its display.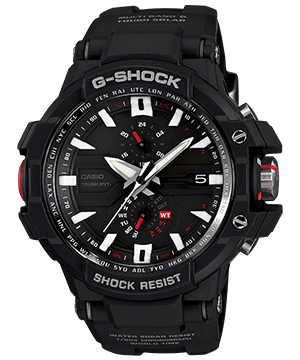 2012
GW-A1000
GRAVITYMASTER
Featuring TRIPLE G RESIST + SMART ACCESS
With TRIPLE G RESIST composition to protect against shock, vibration and gravitational force, and SMART ACCESS to provide system for smooth, intuitive operation of a variety of functions.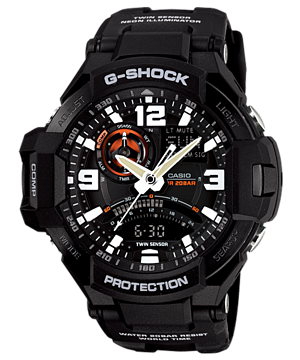 2013
GA-1000
GRAVITYMASTER
Featuring a Twin Sensor capable of measuring direction and temperature
Equipped with a new direction sensor as well as a Bearing Memory function that remembers your direction of movement when visibility is poor and then displays that direction geographically.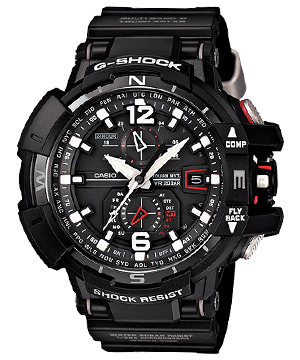 2013
GW-A1100
GRAVITYMASTER
Equipped with "Triple G Resist" to protect against 3 types of gravitational acceleration, the "Smart Access" feature, which provides intuitive operation of multiple functions and a direction measurement function.
This was the first G-Shock to use carbon-fibre in the the second hand used to indicate direction. It also uses sapphire glass with non-reflective coating for wind protection.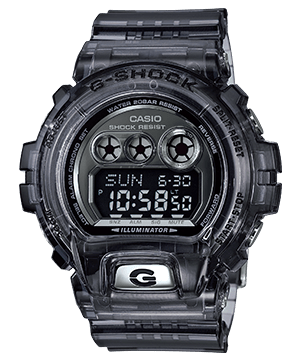 2013
GD-X6900
BIG CASE
The DW-6900 "BIG CASE" series featuring advanced design and basic performance.
A striking design featuring a case roughly 8% larger than the DW-6900 and a 70% larger side button. The "Alpha-Gel" inserted behind the bezel to provide resistance to vibration is a new silicon-based material with excellent vibration-reduction performance. It also comes with a 10-year battery and super-bright LED light.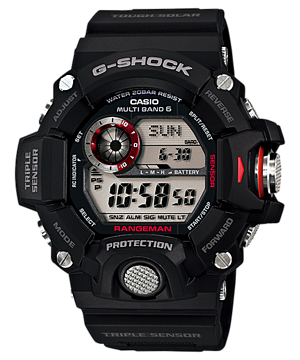 2013
GW-9400
RANGEMAN
The RANGEMAN was the first G-Shock equipped with a triple sensor.
With the newly developed ultra-tough "Button Guard Cylinder" construction this model is intended for specialist use in particularly harsh environments. It also features a direct time-stamp function capable of storing the time with a single button push, a stopwatch that can also be started with a single push and a super bright LED backlight.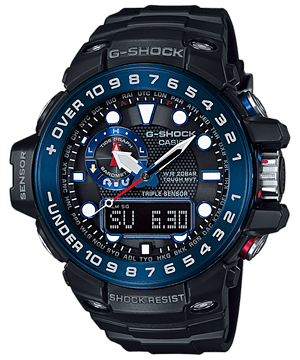 2014
GWN-1000B
GULFMASTER
Incorporated both Triple Sensor version 3 and smart accessed in the same watch
In addition to the barometric pressure, altitude bearing and temperature readings, these new models also feature Tide Graph and Moon Age capabilities to help keep you in close touch with your natural environment. Sudden extreme changes in barometric pressure are alerted using a dial hand, LCD display and alarm.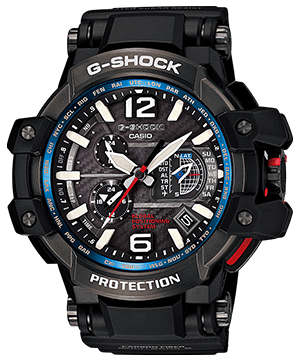 2014
GPW-1000
GRAVITYMASTER
The world's first* watch with CASIO-original GPS HYBRID WAVE CEPTOR** technology built in
GPS HYBRID WAVE CEPTOR combines MultiBand 6 capability to receive any one of six time calibration signals around the globe with a receiver that acquires position and time information from GPS satellites. * Casio data as of July 2014 ** Casio original solar charging system combines GPS to provide you with position information virtually anywhere.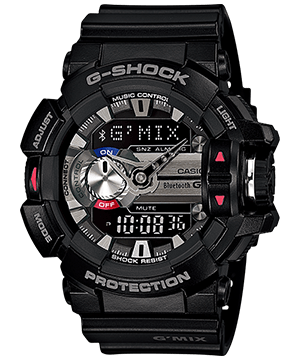 2014
GBA-400
G'MIX
The G-Shock that links with a smartphone to deliver versatile features and simplified watch settings
The G'MIX GBA-400 is Bluetooth® smart, so inter-linking with a smartphone is supported. Once linked to a smartphone running the G'MIX app, you can use music controls and other features that greatly enhance your music enjoyment.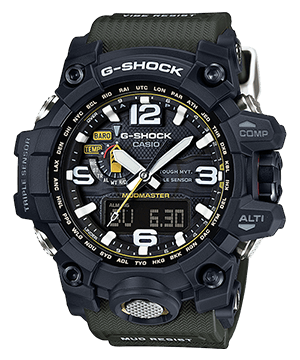 2015
GWG-1000
MUDMASTER
The dirt and rubble resistant G-Shock that is right at home in the toughest of environments
The MUDMASTER GWG-1000 is designed and engineered for a level of dust and mud resistance that totally shuts out sand, mud, dust and other foreign matter encountered in harsh conditions. It's equipped with the Triple Sensor Version 3 which is an essential tool for outdoor survival, and is also packed with a collection of powerful features and functions intended for use under harsh conditions encountered in a jungle, a desert, or other extreme environments.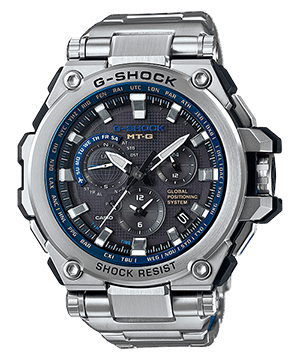 2015
MTG-G1000
MT-G
GPS Hybrid Radio-controlled Solar-powered, shock-resistant MT-G
This model is built using MT-G's original Core Guard Construction and TRIPLE G RESIST, and features a powerful GPS hybrid radio-controlled solar-powered system. A Casio-Original hybrid time setting system combined with a hybrid resin-and-metal hybrid design makes this a truly innovative timepiece.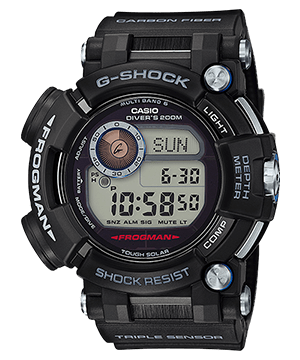 2016
GWF-D1000
FROGMAN
G-Shock FROGMAN - The first watch with built-in depth gauge
The GWF-D1000 is the first FROGMAN diving watch that comes equipped with a depth gauge. This watch was developed in accordance with advice and feedback from professional divers, whose duties take them into some of the toughest environments imaginable. ISO Standard 200-meter water resistance, a depth gauge that can take readings up to 80 meters, a digital compass, a water temperature thermometer, and other features that provide a wealth of diving information all come built in. This and much more makes the FROGMAN GWF-D1000 the watch for anyone looking for serious diver's watch performance.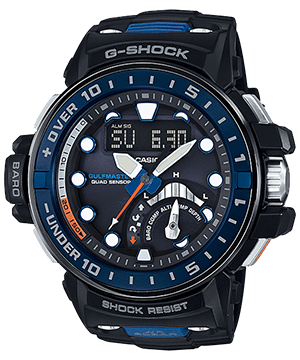 2016
GWN-Q1000
GULFMASTER
The G-Shock with four sensors to support marine missions
The GULFMASTER GWN-Q1000 combines the very best in toughness and information presentation to support the activities of men who find themselves on a mission under severe conditions on the sea. This is the first quad-sensor G-Shock, which delivers highly accurate readings of water depth, direction, barometric pressure, temperature, and altitude.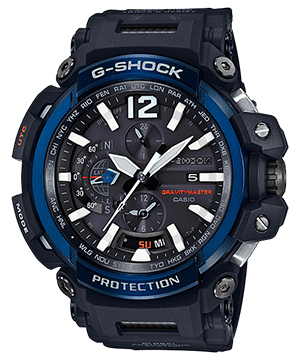 2017
GPW-2000
GRAVITYMASTER
World's 1st* watch with 3 time correction systems
Pursuing a precision time display capability that is indispensable for aviation missions, this model combines GPS hybrid radio-controlled, solar-powered timekeeping** with a Bluetooth® communication function in a 3-way time correction system. * Casio investigation as of March 1, 2017 ** A watch operating system driven by Casio's original solar-charging system that uses GPS (Global Positioning System) to determine the current location anywhere on Earth, and corrects the time automatically by GPS signal or standard time radio wave reception.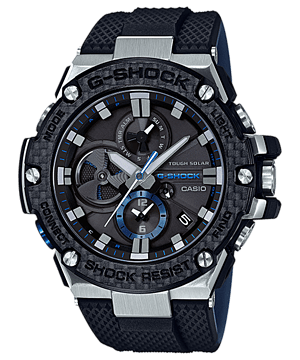 2017
GST-B100
G-STEEL
A tough new chronograph with Bluetooth® installed
This new analogue chronograph was created by challenging development of a tough new design in every respect. A Bluetooth® communication function is also installed in pursuit of absolute accuracy.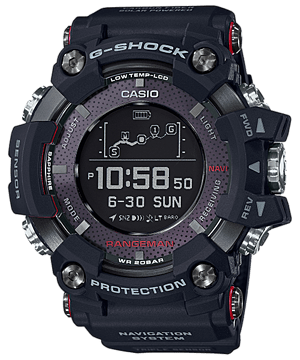 2018
GPR-B1000
RANGEMAN
World's first* solar assisted GPS navigation
The world's 1st* solar-assisted GPS navigation function** is installed in a watch built to resist shocks, dust and mud, low temperatures and underwater pressure. It provides strong support for survival activities with a guide function combining GPS with a compass that leads users to their destination, and a memory function that records transit route and transit point information. *Casio investigation as of January 30, 2018 **The GPS function can operate on backup power provided by solar charging for a certain period of time, even when battery charge is too low.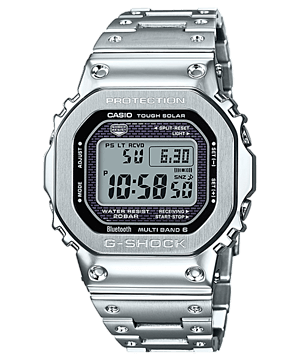 2018
GMW-B5000
ORIGIN
ORIGIN first full metal model
The DW-5600, the watch that was the origin of G-Shock, as been reborn as the full metal model GMW-B5000. Features include a new shock resistant bezel structure and a hard stainless-steel band material, with Smartphone Link and other advanced functions also installed.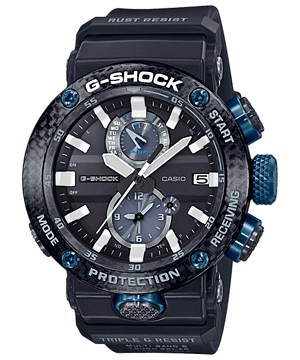 2019
GWR-B1000
GRAVITYMASTER
The next stage of toughness based on carbon materials
Featuring strong, lightweight carbon materials and a newly developed carbon monocoque case, this lightest GRAVITYMASTER delivers the shock resistance of a pilot's watch at a mere 72 grams.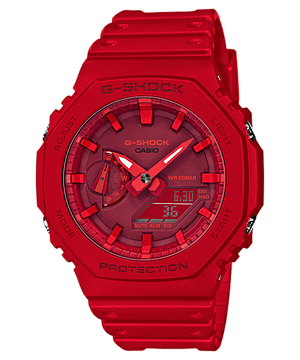 2019
GA-2100
CARBON CORE
The new analogue-digital combination mode that inherits the form of original G-Shock.
The octagon form that was also employed for the original DW-5000C is installed in the series with carbon core guard structure which is the 3rd evolution of the materials of G-Shock.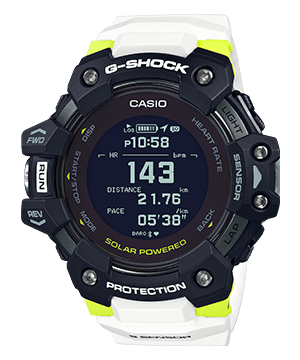 2020
GBD-H1000
G-SQUAD
The G-SQUAD model which equipped with heart rate monitor and GPS.
The first model equipped with heart rate monitor and GPS functions maintaining shock resistant and 20 bar water resistance. The G-Squad lineup is developed for sports and supports various people's workout.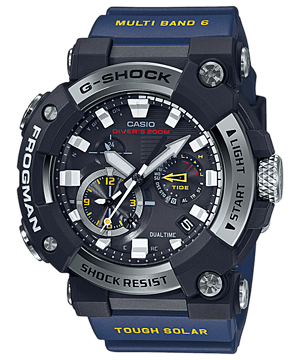 2020
GWF-A1000
FROGMAN
The first analogue Frogman. The shock-resistant diver' watch evolves.
Maintaining the asymmetrical case design that has been the iconic look of FROGMAN series since its launch in 1993, it realised to indicate various information and measurements for professional divers needs in analogue format.