NBA pro basketball player Rui Hachimura's third signature model
This watch is designed with a motif based on the Tateyama mountain range in Hachimura's home prefecture of Toyama. The band boasts mountain graphics, and the dial is printed with a contour map. Hachimura's signature "Black Samurai" logo is featured throughout.
RUI HACHIMURA COLLABORATION MODEL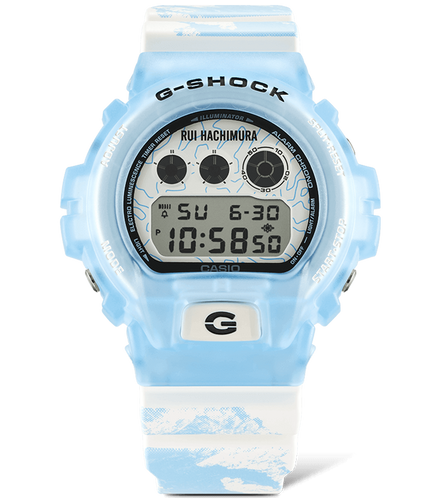 DW6900RH-2D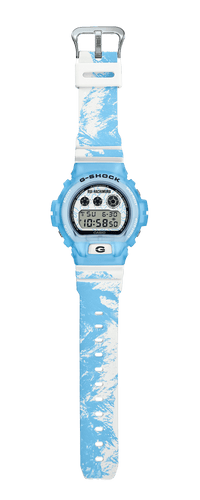 Rui Hachimura
Hachimura began playing basketball in earnest in middle school. While at Meisei High School in Miyagi Prefecture, he led his team to three consecutive victories in the All-Japan High-School Tournament.
While still a student, he was selected as a candidate to play for Japan's national team.
In 2016, Hachimura attended Gonzaga University in the U.S., a school with a highly respected basketball program in the National Collegiate Athletic Association (NCAA). In his third season as a key player, the Gonzaga Bulldogs made it to the Elite Eight in the NCAA tournament, and he won the Julius Erving award as the best small forward that season.
In 2019, Hachimura became the first Japanese national ever to be taken in the first round of the NBA draft, and joined the Washington Wizards. He played in 48 of 72 games his rookie season, and his stellar performance earned him a spot on the second-team NBA All-Rookie Team.
FEATURES

Bezel and Band Design
A graphic representation of the Tateyama mountain range, symbol of Hachimura's home prefecture of Toyama, adorns the band. The bezel incorporates light-blue translucent resin to evoke the abundant water resources found there. The light-blue printing on the white band represents the mountain range's majestic snow-capped peaks.

Dial Design
The dial is printed with a contour map of the Tateyama mountain range. The name "RUI HACHIMURA" is paired with the G-SHOCK logo engraved into the translucent bezel.

Signature Logo
Hachimura's signature "Black Samurai" logo is laser-engraved on the case back. The symbol 八 (hachi in Japanese, meaning "eight") represents both his name and jersey number. The design incorporates a Japanese sword that crosses the 八 hachi symbol, resulting in an additional "H" motif for "Hachimura."

Special Packaging